RRC Receives National Energy Education Award For RRC OIL; Online Oil & Gas Inspection Query
August 26, 2019
MEDORA, N.D. – The Railroad Commission of Texas is the winner of the 2019 Chairman's Stewardship Award for Energy Education from the Interstate Oil & Gas Compact Commission. The award is in recognition of the Commission's RRC Online Inspection Lookup (RRC OIL) tool. For the first time in the Commission's history anyone, anywhere can look up the inspection and enforcement history of oil and gas wells and operators online. The searchable database provides 24-hour, 7-day a week access to this important information.
North Dakota Governor Doug Burgum presented the award to RRC's Executive Director Wei Wang and Clay Woodul, Assistant Director for Oil and Gas Field Operations, today at the IOGCC's Annual Conference in Medora, N.D.
"We are proud and honored to receive this prestigious award," RRC Chairman Wayne Christian said.
"It is recognition of our continuing efforts to educate the public about how we regulate the state's oil and gas industry to ensure safe, responsible energy production.
IOGCC is a national organization comprised of the governors from oil and gas producing states, including Texas, and has international affiliate members from Canada, Egypt and the Republic of Georgia. IOGCC helps member states efficiently maximize oil and natural gas resources through sound regulatory practices while protecting the nation's health, safety and environment.

"This award represents IOGCC's highest honor for exemplary efforts in environmental stewardship," said Lori Wrotenbery, IOGCC Executive Director. "The RRC OIL project won the award for giving landowners and others access to real-time information on inspection and enforcement activities at oil and gas well sites."
The Commission launched RRC Oil in January 2019. The online tool provides inspection and enforcement information, including notices of violation as well as intensions to sever leases, which effectively prohibit oil or gas from leaving a well site.
"The Commission conducts more than 130,000 oil and gas inspections annually," RRC Executive Director Wei Wang said.
"RRC OIL allows the public and operators to look up the compliance history of wells throughout Texas. This is another significant step forward to increase transparency at the Commission."
Users may access RRC OIL 24/7 and can customize inspection and violation searches by a variety of criteria, including; 
Operator name;
Lease name or number;
API number;
County;
RRC District Oil and Gas District number;
Inspection date range, and;
Rule.
RRC OIL accesses inspection and enforcement data entered into the RRC's Inspection, Compliance, Enforcement Electronic Tracking System, which was implemented in August 2015.
Left to right: Clay Woodul, RRC Oil and Gas Division, North Dakota Governor Doug Burgum, Wei Wang, RRC Executive Director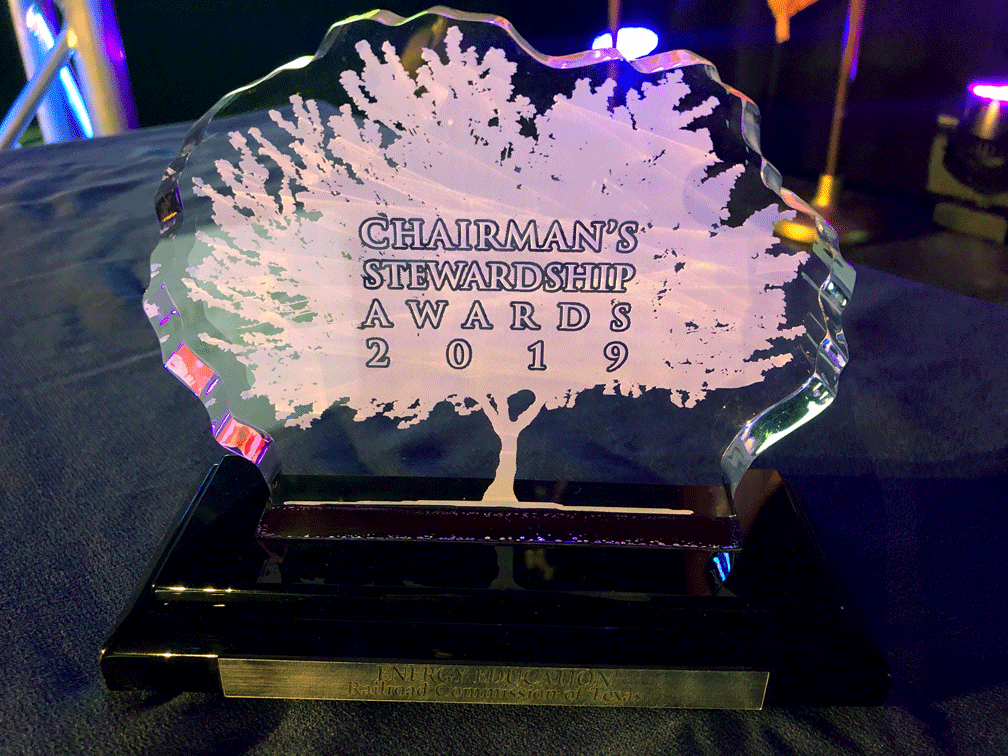 Chairman's Stewardship Award 2019
---
About the Railroad Commission:
Our mission is to serve Texas by our stewardship of natural resources and the environment, our concern for personal and community safety, and our support of enhanced development and economic vitality for the benefit of Texans. The Commission has a long and proud history of service to both Texas and to the nation, including almost 100 years regulating the oil and gas industry. The Commission also has jurisdiction over alternative fuels safety, natural gas utilities, surface mining and intrastate pipelines. Established in 1891, the Railroad Commission of Texas is the oldest regulatory agency in the state. To learn more, please visit https://www.rrc.texas.gov/about-us/.