Alternative Fuels Online System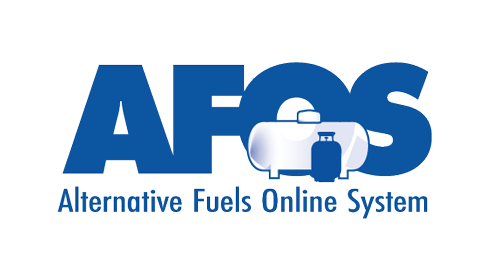 Visit AFOS

The Railroad Commission of Texas' Alternative Fuels Online System allows you to view class and examination schedules related certification for the safe transportation, storage, distribution, and use of the alternative fuels [which includes liquefied petroleum gas (LPG) (commonly referred to as propane); compressed natural gas (CNG) and liquefied natural gas (LNG)]. The system information is updated throughout the day. Individuals, who are authenticated users, may log into RRC AFOS to register for classes and examinations. To become an authenticated user, you must request access.
If you have questions regarding RRC AFOS, contact the RRC via email at AFOS_Help@rrc.texas.gov.
Accessibility
The Railroad Commission of Texas (RRC) is committed to making its website and applications accessible to all users. If you use assistive technology and the format of the application prevents you from obtaining necessary data, contact the RRC's Electronic and Information Resources Coordinator by emailing accessibility_coordinator@rrc.texas.gov, calling 512-463-7229, or contacting us through Relay Texas. To enable us to respond in the most helpful way, please be sure to communicate the following: 1) the nature of your accessibility problem; 2) the format in which you prefer to receive the material; 3) the web address of the requested material; and 4) your contact information.
For more information on accessibility, please see our Accessibility Policy.