RRC Launches New Website
Adds User-Friendly Enhancements
January 27, 2021
The Railroad Commission of Texas unveiled a new website today with a new layout that is easy to navigate and is more task oriented than the previous version.
The new site is another of the agency's initiatives to help operators efficiently get what they need and to also help the public easily access the RRC's trove of information.
A key change on the new website are menu options at the top of the site that provide a one-stop shop for operators and the public. Examples include:
The

 

Resources

 

page (left screenshot below) that includes popular links for research queries, the GIS Viewer, statistics and more; and
The

 

Forms

 

page (right screenshot) where operators can access every RRC division and department's forms for permits or other required filing without having to go to a particular division's page.
The red

 

RRC Applications

 

button at the top right of the website houses applications such as CASES and RRC OIL (for inspection lookups). More innovative applications will be added there as they are released.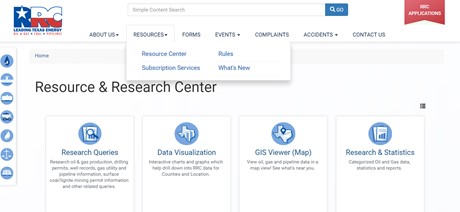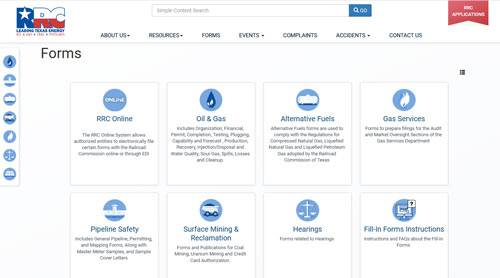 "We patiently built the new website to optimize the user experience for operators and the public," said Wei Wang, the RRC's Executive Director. "Analytics helped us see the most visited pages and we organized that information in the top menu and on the landing pages of our divisions and departments. All the information that was on our old website is on the enhanced site but presented in a more professional and navigable layout."
The landing pages for RRC divisions and departments are marked by icons on the home page (as shown below), and those icons also appear on the left of the screen as you visit different pages.

A new Events panel on the homepage provides an across-the-board list of events at the agency including trainings, exams, and open meetings. Events for a particular division could also be found on each division's landing page.
Mobile device users will notice another major benefit of the new website, as tables and associated links fit within mobile screens.
The RRC will continue to fine-tune the new website based on input. If you use the site often, please familiarize yourself with the new layout at www.rrc.texas.gov.  There is a contact form in the Contact Us menu for users to leave comments or input about the new website.
Make sure to also check your bookmarks because URLs to some pages have changed on the new website.
We have also created a helpful video highlighting the enhancements to the website. You can view that video on the RRC's YouTube Channel at https://youtu.be/dDocusqGT08.