RRC Hosts Texas House Energy Resources Committee
February 25, 2019
AUSTIN –Members of the Texas House of Representatives Committee on Energy Resources, chaired by Rep. Chris Paddie, visited the Railroad Commission's Austin offices today for an agency tour and briefing on operations. 
"The RRC is vital to the environmental protection and economic success of Texas, so this was a great opportunity to dig in on the important work of the agency," said Chairman Paddie. "I'm pleased to see the good progress the agency is making, from increasing transparency by implementing an online search tool for oil and gas inspection and violation data, to adding field staff for inspecting oil and gas wells and pipelines." 
During the Committee's tour, members and legislative staff were given a demonstration of RRC OIL, the agency's new online search tool for inspection and violation data of oil and gas wells in Texas. They also were updated on the Commission's progress on state managed well-plugging, as well as oil and gas well inspections. 
"We're grateful the members and their staff took time out of their very busy schedules to visit us and see first-hand the hard work and dedication of RRC staff to ensure the safe, responsible production our state's energy resources," said RRC Executive Director Wei Wang.
"We're extremely proud of the work we do for Texas and stand ready to assist the Committee on important energy-related issues this legislative session." 
Committee members were also given a briefing on the RRC's Groundwater Advisory Unit, which sets drilling requirements for every oil or gas well, to ensure groundwater is protected. Additional briefings covered pipeline safety responsibilities, alternative fuel activities, gas service operations, coal mining regulations and improvements to the agency's online Geographic Information System Map, which gives the public access to data on every oil and gas well in the state.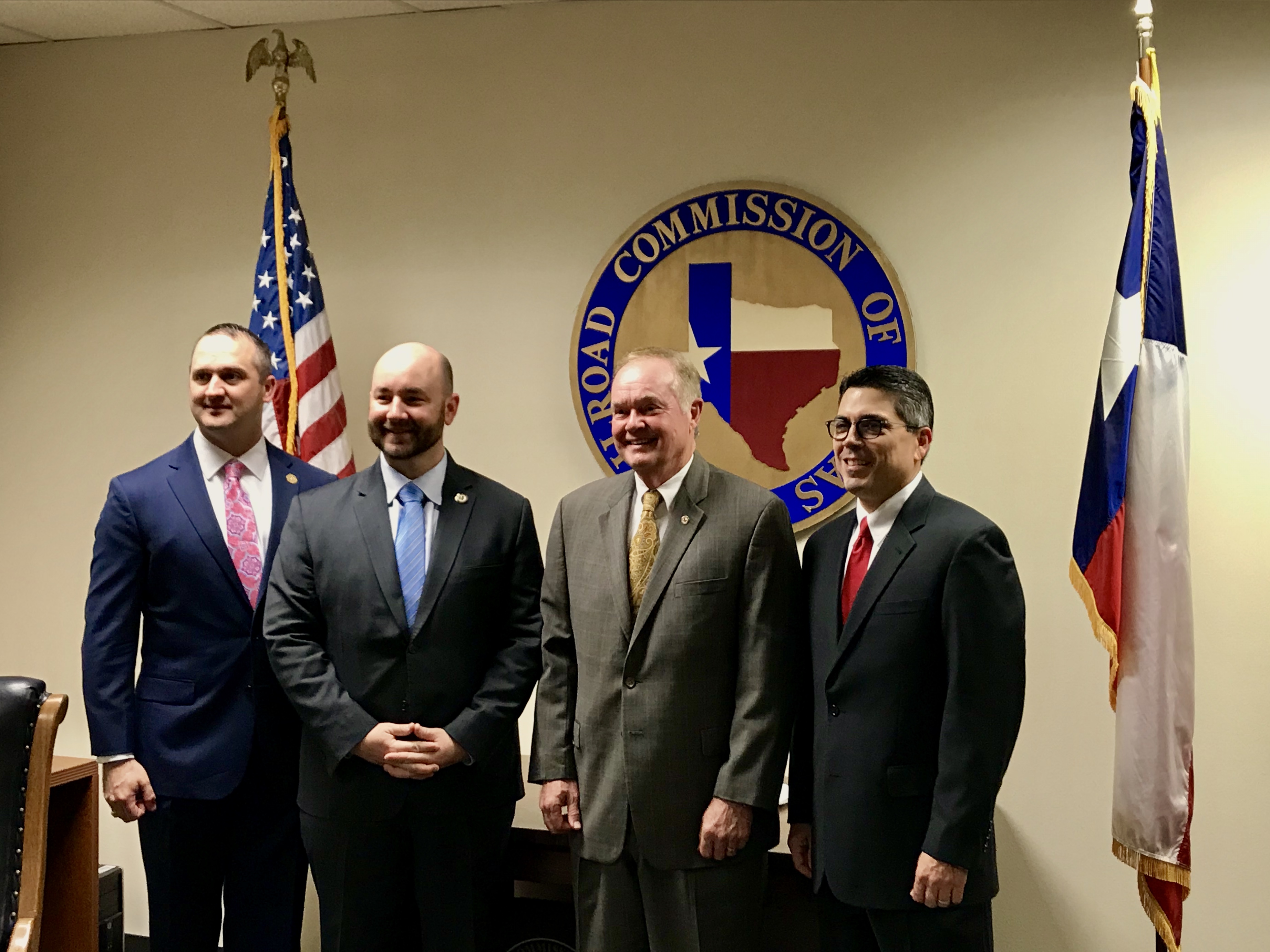 (From Left to Right) Rep. Ernest Bailes, Rep. Cody Harris, RRC Commissioner
Wayne Christian & House Energy Resources Committee Chairman Chris Paddie.
---
About the Railroad Commission:
Our mission is to serve Texas by our stewardship of natural resources and the environment, our concern for personal and community safety, and our support of enhanced development and economic vitality for the benefit of Texans. The Commission has a long and proud history of service to both Texas and to the nation, including almost 100 years regulating the oil and gas industry. The Commission also has jurisdiction over alternative fuels safety, natural gas utilities, surface mining and intrastate pipelines. Established in 1891, the Railroad Commission of Texas is the oldest regulatory agency in the state. To learn more, please visit https://www.rrc.texas.gov/about-us/.