RRC Earns National Environmental Award for Well Plugging Project at Padre Island National Seashore
November 08, 2021
AUSTIN – The Interstate Oil and Gas Compact Commission today recognized the Texas Railroad Commission and its partners with the Chair's Environmental Partnership Award during the organization's annual conference in Santa Fe, N.M. The IOGCC is an international organization, including oil and gas regulators from 38 states and eight Canadian provinces.
The award recognizes the plugging of 11 orphaned wells in the Padre Island National Seashore on the barrier island close to Corpus Christi. The project occurred from January to April 2021 and helped preserve sensitive ecological systems for both wildlife and all the visitors who enjoy visiting the park every year.
Environmental Partnership is one of IOGCC's Chair's Stewardship Award categories for "innovative projects led by non-industry organizations with the cooperation and participation of industry."
RRC's State Managed Plugging Program oversaw the effort and worked with the National Park Service, AAA Well Services and E-Tech Environmental and Safety Services to plug 10 former gas wells and an associated water well. Funding for the work, which also included the removal of five well pads and two tank batteries, came from the RESTORE Council.
"Because of the great collaboration between Railroad Commission experts, the National Park Service and funding from the RESTORE Act, this project was accomplished quickly and efficiently," said Wei Wang, RRC Executive Director. "The National Seashore is one of the State's great natural treasures. I am proud we were able to do our part to help protect it for all Texans and the future generation."
To protect the integrity of the dunes at the National Seashore, the plugging company built a mat road to allow the trucks to safely cross the dunes and get to the remote wells. Trucks carrying equipment traveled the beach road each day, providing access for crews to complete their work while protecting public safety and the environment.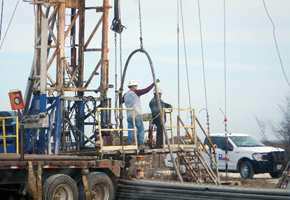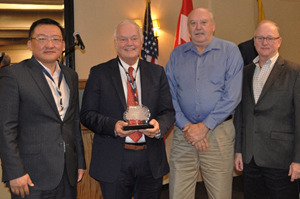 ---
About the Railroad Commission:
Our mission is to serve Texas by our stewardship of natural resources and the environment, our concern for personal and community safety, and our support of enhanced development and economic vitality for the benefit of Texans. The Commission has a long and proud history of service to both Texas and to the nation, including almost 100 years regulating the oil and gas industry. The Commission also has jurisdiction over alternative fuels safety, natural gas utilities, surface mining and intrastate pipelines. Established in 1891, the Railroad Commission of Texas is the oldest regulatory agency in the state. To learn more, please visit http://www.rrc.texas.gov/about-us/.