Christian: Railroad Commission Reports Record Low Flaring Rate
December 02, 2021
AUSTIN – The statewide flaring rate fell to a record low level in September, according to the Railroad Commission's latest production data. The percentage of natural gas flared in Texas dropped from a previous record low of 0.61% in July 2021 to a new record low of 0.21% in September.
Texas has one of the lowest flaring rates of large oil and gas producing states in the country with an average rate of flaring that has remained significantly less than 2% for more than two years.
"Texas continues to show the rest of the world that it's possible to produce large quantities of reliable fuel while being environmentally responsible," Christian said of the data. "Despite mainstream reporting, you don't have to choose between using cheap, plentiful and reliable fuel and maintaining a healthy environment. They are not mutually exclusive, especially when you factor in human ingenuity and technological advancements."
"As the Biden administration seeks to tax and regulate the oil and gas industry to death, reports like this one are critically important to fighting misinformation from environmental extremists," Christian continued. "As chairman, I'm committed to a consistent and predictable regulatory process based on sound science that allows oil and gas companies to responsibly produce plentiful, affordable and reliable energy for all Texans."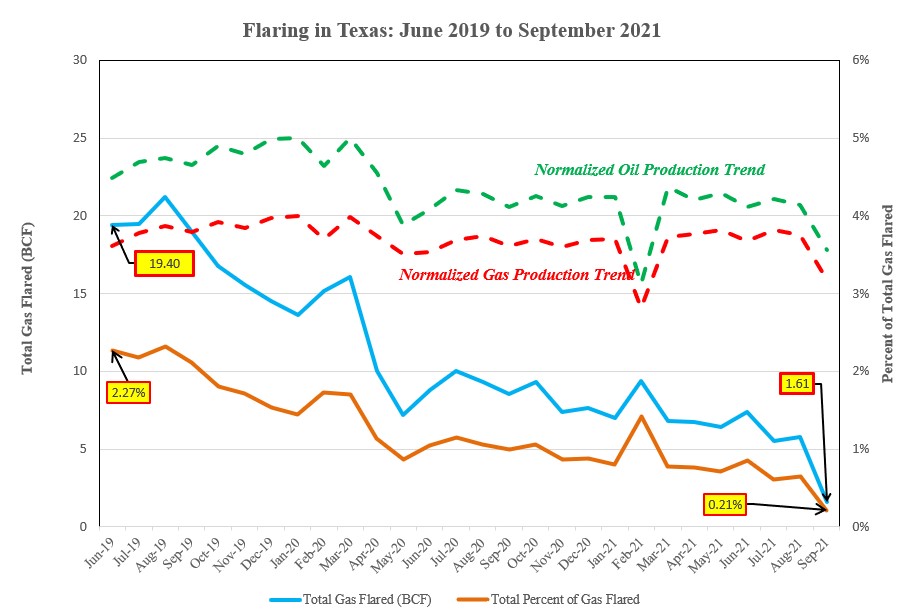 A lifelong conservative businessman, Wayne Christian was elected as our 50th Texas Railroad Commissioner in November 2016. Prior to his time at the Commission, Christian served seven sessions in the Texas House of Representatives, accumulating a strong record of standing for free markets and against burdensome regulations. Christian is married to his wife, Lisa, and together they have three daughters, Liza, Lindsey and Lauren. You can learn more about Chairman Christian here: https://rrc.texas.gov/About-Us/Commissioners/Wayne-Christian/.
---
About the Railroad Commission:
Our mission is to serve Texas by our stewardship of natural resources and the environment, our concern for personal and community safety, and our support of enhanced development and economic vitality for the benefit of Texans. The Commission has a long and proud history of service to both Texas and to the nation, including almost 100 years regulating the oil and gas industry. The Commission also has jurisdiction over alternative fuels safety, natural gas utilities, surface mining and intrastate pipelines. Established in 1891, the Railroad Commission of Texas is the oldest regulatory agency in the state. To learn more, please visit https://www.rrc.texas.gov/about-us/.