Christian Joins CNBC's The Exchange:
"Texas will rise to the occasion"
April 22, 2020
AUSTIN – Today Railroad Commission Chairman Wayne Christian joined Kelly Evans on CNBC's The Exchange to discuss the continued conversation on proration and his call for the industry to establish a Blue Ribbon Task Force for oil economic recovery. You can view the interview here or below.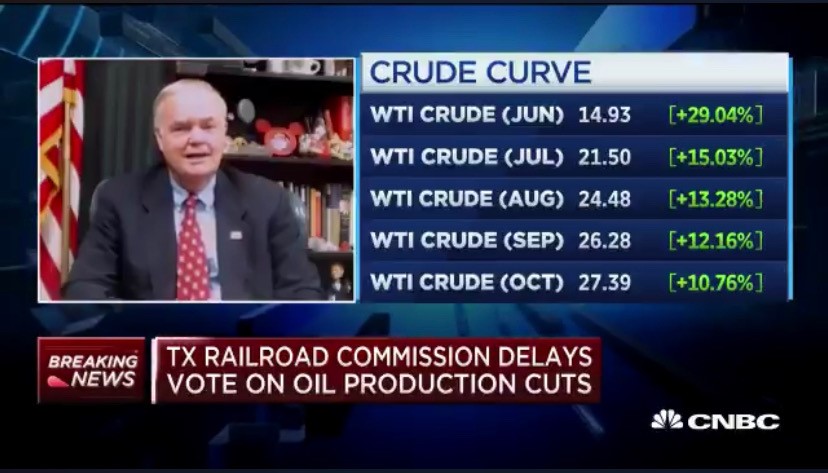 Christian and Evans began by discussing Commissioner Ryan Sitton's potential motion to put in place proration contingent on a number of factors, including the actions of other states.
"We are working to find a solution as fast as possible because we don't need the markets to continue to have uncertainty about what is going on with the regulation of oil and gas," said Chairman Christian. "Texas will rise to the occasion — a hundred percent of the time we have faced hardship, America comes back stronger and so does Texas."
Christian emphasized the importance of ensuring solutions come from listening to producers and business owners, rather than simply relying on government mandated cuts. It is with this in mind that he announced the formation of the Blue Ribbon Task Force for oil economic recovery. 
"Our task force brings industry together, large and small, from across various sectors to tell our agency how we can best assist the free market industry — rather than the government, big brother, telling them what to do," continued Christian. "America has built the most successful energy sector in the history of the world, why should we doubt those who made this possible during a time of crisis?"
Before closing out the interview, Evans mentioned the Saudi flotilla making its way to America. The Wall Street Journal recently reported that, "A fleet of tankers full of Saudi oil is slowly making its way to the U.S. Gulf Coast, threatening to worsen an already historic oversupply of crude. The 20 tankers holding a combined 40 million barrels of crude are still headed to ports in Louisiana and Texas, according to shipping sources and market intelligence firms Vortexa Ltd. and Kpler Inc. They are due to arrive in Texas and Louisiana through late May." (1)
"I have visited with Senator Ted Cruz and will visit with Senator John Cornyn tomorrow about my concerns with this flotilla that is against the intent of the OPEC agreement to cut production," said Christian.
(1) https://www.wsj.com/articles/flood-of-saudi-oil-looms-as-u-s-drillers-face-supply-glut-11587119400
---
---
About the Railroad Commission:
Our mission is to serve Texas by our stewardship of natural resources and the environment, our concern for personal and community safety, and our support of enhanced development and economic vitality for the benefit of Texans. The Commission has a long and proud history of service to both Texas and to the nation, including almost 100 years regulating the oil and gas industry. The Commission also has jurisdiction over alternative fuels safety, natural gas utilities, surface mining and intrastate pipelines. Established in 1891, the Railroad Commission of Texas is the oldest regulatory agency in the state. To learn more, please visit https://www.rrc.texas.gov/about-us/.